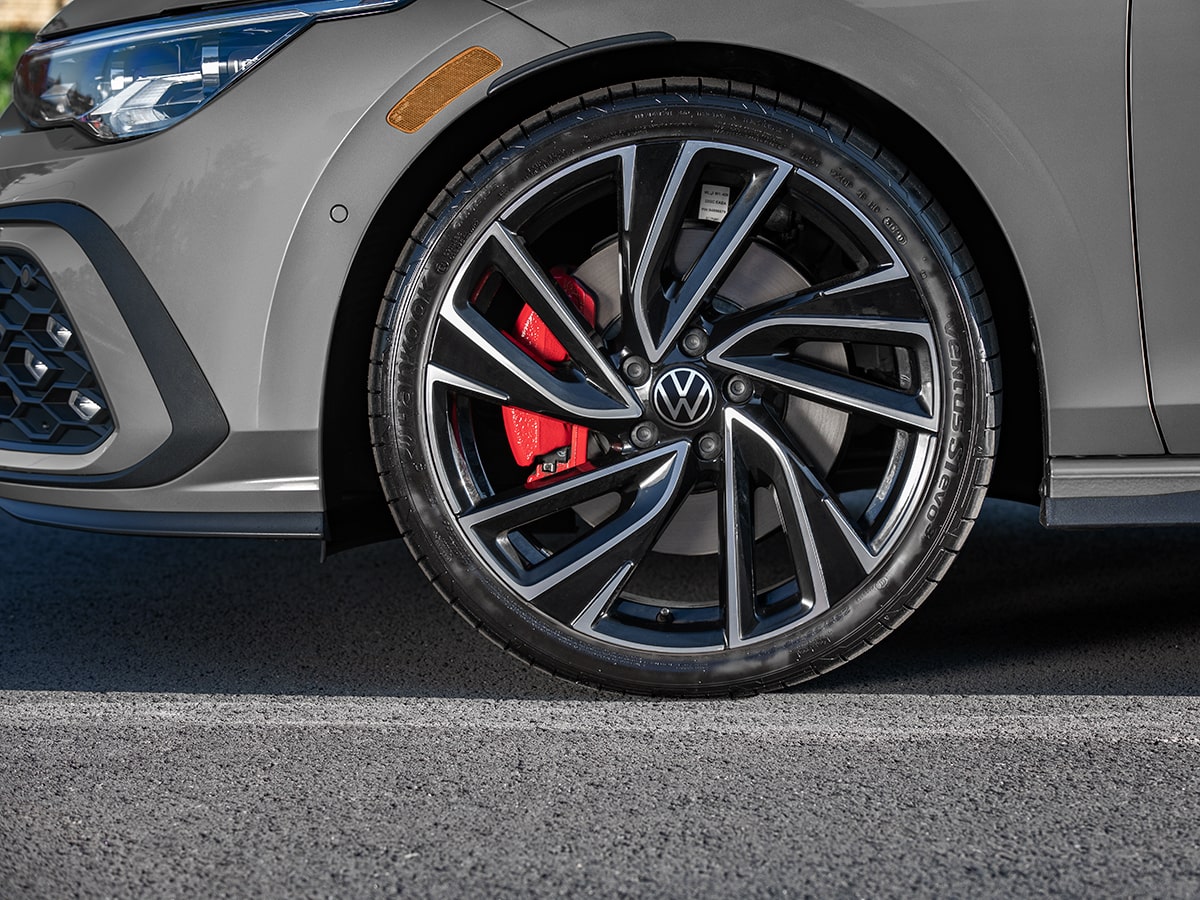 Don Thornton VW of Tulsa Explains the Importance of Front Brake Pad Replacement
Your braking system is a complex system that incorporates several parts working in sync. The brake pads, including front and rear pads, close around the brake rotors to cause friction needed to slow down your vehicle. This necessary friction will eventually wear down your brake pads, to the point at which their integrity will be compromised. To provide the traction necessary to stop your Volkswagen, you will need to have them replaced. Our certified technicians recommend checking your owner's manual for the mileage at which you should have the front brake pads replaced, but typically this should be completed approximately every 30,000 to 70,000 miles. This timeline can vary with your unique driving habits, the environment in which you usually drive your VW, and the material in which your brake pads are made. If you are unsure whether you need to have your brake pads replaced or think it might be time, schedule an appointment at Don Thornton VW of Tulsa and we can examine them for you. We can check for any additional damage or wear within your braking system and quickly fix any underlying issues.
The Difference Between Your Volkswagen's Front and Rear Brake Pads
Your Volkswagen has four brake pads, two on the front wheels and two on the back wheels. They can be replaced in pairs, either the front two or back to. Typically, your front brake pads will wear down faster due to the greater weight and pressure they are subjected to. The rear brake pads don't work quite as hard but help share the load to prolong the life of the front two pads. Unfortunately, the brake pads cannot be rotated from front to back, as they will not fit on the calipers of the other. The only option when your front brake pads are worn down is to have them replaced.
Indications Your Front Brake Pads Should be Replaced
Have you noticed vibrations in your steering wheel or softness in your brake pedal? Are there unusual grinding sounds when you brake or is a warning light on your dashboard? If your Volkswagen shows these indications of worn brake pads or failed an inspection, schedule an appointment for brake pad replacement at Don Thornton VW of Tulsa. Driving with worn pads can cause safety issues because they will not produce the necessary traction to slow your vehicle. Diminished performance means greater stopping distances, which can result in a rear-end collision.
Benefits of Front Brake Pad Replacement for Your VW
Having your worn front brake pads replaced ensures the optimal performance of your braking system, so you know your Volkswagen will stop when you step on the brake pedal. Not only will it provide safer driving conditions, but it can also reduce maintenance costs, extend brake life, increase reliability, and provide quieter and smoother braking.
Don Thornton Volkswagen of Tulsa Can Efficiently Replace Your Front Brake
Don Thornton Volkswagen of Tulsa, Oklahoma is the premier choice for automotive services and repairs near you, whether you live in Sand Springs, Bixby, Owasso, Coweta, Glenpool, or Jenks. When you need your front brake pads replaced, our Volkswagen-trained and certified technicians have the tools, technology, and expertise, to get the job done correctly and quickly. We can get you back on the road with reliable and safe brakes, using only genuine OEM parts from the manufacturer. Take advantage of our Saturday service hours, courtesy transportation shuttle, and complimentary multi-point inspection. Please enjoy our complimentary snacks, beverages, and coffee, flatscreen TVs, and Wi-Fi. Schedule an appointment today using our easy online scheduling service, and let us replace your brake pads for you at a competitive price.
Schedule Service
Don Thornton Volkswagen of Tulsa Service Department Amenities
Complimentary Wi-Fi
Courtesy Transportation Shuttle
Parts & Gear Boutique
Complimentary Beverages & Coffee
Complimentary Snacks
Certified Technicians
Comfortable Waiting Area
Saturday Service Hours
Flat Screen TVs
---